Directors
Leading with Passion and Purpose
Mara Kates
"Compassion" is Mara's middle name
Mara has a Masters in Social Work from Columbia University, where she honed her counselling skills and knowledge. Mara's passion is to understand and bring out the best in every person. Before joining the year-round camp team, Mara worked as a fundraiser and administrator at Gilda's Club and the Learning Disabilities Association of Ontario. At camp, Mara oversees camper and counsellor wellbeing, parent communications, and the Leader-in-Training and Inclusion programs. Her goal is to make everyone feel welcomed and accepted into our community.
Deep Roots at Arowhon
Mara follows her mom Joanne's footsteps as the fourth generation Kates running Arowhon. She started camp at age six and on her way to becoming Camp Director she worked as a counsellor, Section Head, horseback riding instructor, Head Counsellor, and Assistant Director. Mara is grateful to have the opportunity to make her passion into a profession and is excited to share the magic of camp with her daughter Lillian, named after Lillian Kates who started Arowhon in 1934.
You can contact her at mara@camparowhon.com
Max Muszynski
Max's Passion: Growing Kids with Outdoor Skills
Max cherishes and fosters the personal growth that results from wilderness learning, both in his summer camp work and as director of the Camp Arowhon Outdoor Centre which welcomes school and adult groups for outdoor education in the spring and fall. Max holds a degree in geography and is a certified trainer in first aid, outdoor safety, and paddling sports. His commitment to risk management has earned him the nickname "Safety Max" and he is a mentor to other camp professionals in this area. He supports the activity, tripping and support staff at Arowhon and is responsible for our beautiful site. As the father of two daughters, Max feels in his heart the importance of fostering respectful relationships between girls and boys. At camp, he especially supports boys and young men to find their best selves and not be limited by outmoded definitions of manhood.
Max Took His First Steps at Camp
Also fourth generation to run camp, Max first came to camp when he was two weeks old and has returned to Algonquin Park every summer since. He went from being a junior boy to a junior Boys counsellor, sailing instructor, and Program Director, and now spends almost half of his year on Tepee Lake.
You can contact him at max@camparowhon.com
Senior Directors
Life Partners with a Legacy
Joanne Kates
Camp is Joanne's Home
Joanne is the third generation Kates to run Camp Arowhon, which her grandmother started in 1934. Joanne grew up at Arowhon and has been camp director since 1989. As a mom Joanne wanted the same thing for every child at Arowhon that she wanted for her own children – to be safe on the outside AND on the inside.
Joanne Develops a Social Safety Tool Kit
To create a place where every single child is respected and nurtured enough to take on challenges, grow and learn, Joanne developed Camp Arowhon's Social Safety Tool Kit – tools that she trains all Arowhon staff to use: conflict mediation, anti-bullying interventions, talking circles, and much more.
Giving Back
Joanne's life passion is the well-being of children. She has served on the boards of Integra, a children's mental health centre and PrevNet, Canada's national anti-bullying organization. She currently serves on the board of Camp Oki for children with heart disease. Joanne writes a popular monthly parenting column for Post City Magazine, and also trains schools and other camp directors and camp staff to use camp's anti-bullying and social safety program.
Joanne combines her love of camp with her passion for breaking down barriers and is the leader of Arowhon's anti-racism journey. Since 2018 she has been working with the Syrian refugee community to bring new Canadian children to camp, and is now consulting with BIPOC members of the camping community to learn how to make camp a more welcoming and diverse space.
You can contact Joanne at: joanne@camparowhon.com
Leon Muszynski
A Role Model of Sensitivity and Warmth
Joanne's life partner, Leon, is also committed to supporting children and their growth - particularly when it comes to helping young men develop positive masculinity.
Leon is also committed to supporting children and their growth - particularly when it comes to helping young men develop positive masculinity. As "camp dad" Leon's mission is to teach boys that they can express the full range of human emotions, not only the "I have to be tough" mentality that society expects of men.
Advocate, Environmental Champion
Before joining Joanne as Camp Director, Leon worked as a public policy analyst to reduce poverty, unemployment and inequality. He was Program Director at the Social Planning Council of Metropolitan Toronto for 8 years and a consultant, writing books, reports, and articles on income security, taxes, and labour market issues. He served many years on the Board of the Ontario Camps Association (OCA) and on their executive committee as Treasurer. Leon has received the OCA's award for Outstanding Achievement to acknowledge his contributions to the camp industry and he is also an OCA Honorary Life Member.
Leon is also deeply committed to sustainability. He has worked for many years to reduce Arowhon's environmental impact through infrastructure initiatives that you can read about HERE.
You can contact Leon at: leon@camparowhon.com
Andre Amiro
Tripping Director
Andre has been an outdoor and environmental leader across the country. Before starting his Arowhon career in 2007, he was a camp director with Scouts Canada Camp Lone Cloud in Nova Scotia. Since coming to Arowhon, he has continued to pursue his passion for outdoor education throughout the year as a program facilitator with the HeartWood Centre for Community Youth Development in Halifax, and is working toward a Masters of Education in Environmental and Sustainability Education and Social Justice Education at Lakehead University.
Andre cares deeply about bringing youth into the outdoors through safe, engaging, and educational programs that inspire and challenge them. At Arowhon, Andre has been Head Climbing Instructor, director of the Outdoor Centre, Program Director, Head Tripper, and now Tripping Director. He is committed to helping Arowhon campers of all ages develop a lifelong love of the outdoors, and the skills and confidence in themselves to explore it.
You can contact him at andre@camparowhon.com
Jessi Stern
Administrative Director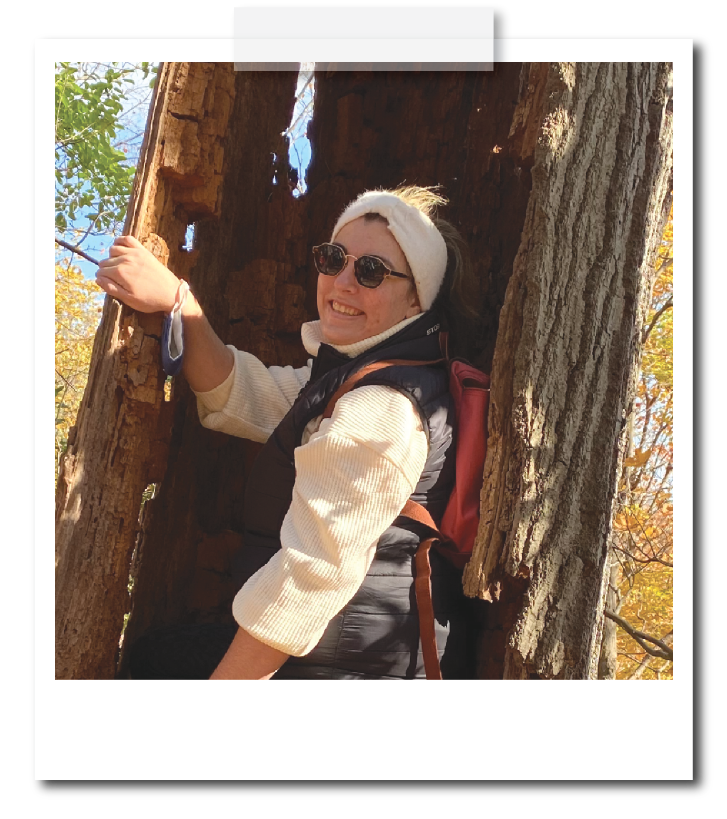 Ever since she grew up and had to get a "real job" it's been Jessi's dream to return to her REAL home: camp. Camp runs through Jessi's veins! She spent 20 years with our friends at Camp Manitou, first as a camper and then working in pretty much all areas of camp - as a counsellor, program staff, teaching A&C, and running the Tuck Shop - until finding her true camp calling: the office!
Jessi graduated from Wilfrid Laurier University and holds a postgraduate degree in event management. She's worked in marketing and events in real estate, tech, and retail, but has always wanted to bring her skills and expertise back to camp. Jessi sees camp as the best event in the world to spend all year preparing for, and her experiences in event planning and at camp make her the perfect person to be running our office.
You can contact her at jessi@camparowhon.com or by calling (416)975-9060
Pearl Breitman
Assistant Director - Camper Care
Pearl Breitman was an Arowhon counsellor and Section Head in the 1990s and is thrilled to be back as Assistant Director; nurturing confidence and emotional well-being for campers and staff. Pearl has extensive experience working with children, teens, and adults as an international English teacher to primary students, a swim instructor for young children, a research-mentorship program director for high school students at the University of Toronto, and has worked as a teaching assistant for multiple undergraduate courses.
Outside of camp, Pearl is a Registered Dietitian, where she also uses her strong therapy skills in her private practice to coach children and adults individually and in groups. Her compassionate and caring personality makes people feel accepted and respected, and she is passionate about working with parents, staff, and campers to facilitate supportive communication for everyone.
You can contact her at pearl@camparowhon.com