Sailing
Our goal is for every camper to learn how to skipper a sailboat.
We start the Juniors in Opti training sailboats that are tiny and not tippy, so they feel safe. With 25 sailboats (Optis, Zests, and Snipes) we can develop everyone's skills, from beginners all the way up to coaching advanced sailors in racing techniques…. Instructors teach and monitor for safety from motorboats on the water.
Canoeing
Campers use our 65 cedar-wood canoes to learn solo and tandem canoeing skills.
Even the smallest eight-year-old can learn to paddle solo and make a canoe dance on the water.
Windsurfing
Our large fleet of windsurfers use tiny training sails (for little people) up to big racing sails (for advanced surfers).
Teaching happens in stages, starting with tethered boards at dockside, then moving to instructors teaching from motorboats on the lake. We aim to give every camper individual attention at their own level, so they can learn without frustration, and have a great time.
Kayaking
Our fleet of colourful playboats are as fun as they look! Beginners learn the basics of maneuvering these responsive vessels and more advanced paddlers practice their rolling, tricks and whitewater paddling skills.
Swimming
Every Arowhon camper goes home a better swimmer, because swim class is compulsory. We do stroke improvement, lifesaving, synchronized and distance swimming. Campers work to get Lifesaving Society swimmer levels and Bronze badges. Our certified instructors run safe docks, and all our counsellors are trained, certified lifeguards.
"I get to hang out with my friends and do fun activities all day long. I develop skills that are constantly useful to me and I create memories that will last forever. "
Horseback Riding
From the beginners to experts, our trained riding staff teach each camper at their level. They lead a nervous beginner around the ring to grow their feeling of safety on a horse... and teach the riding enthusiast to jump and do dressage. Our stable has 20 horses - enough so that horse lovers can ride every day if they want.
"The staffs are amazing! They treat you like you belong, not like you are just another person. I feel camp is the only place that I am appreciated for being me. With the wide selection of activities and the great schedule, you will never feel bored, and you will always find something you like. I can't imagine life without it."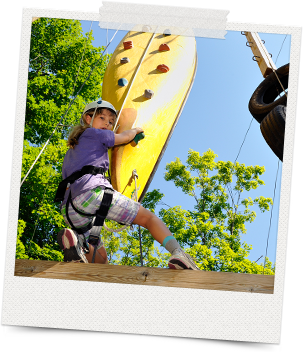 High Ropes:
High ropes is a thrill climb into the treetops – up the hanging canoe all the way to the top to sit in the log chair almost 50 feet off the ground! Learn team skills, grow self-confidence and leadership at the ropes course.
Zipline:
Zip 400 feet through the maple forest canopy on the double zipline!
Climbing:
Climbing is exciting, because you choose to try something hard, get great help and support, and find success! As at every Arowhon activity, instructors are fully qualified and safety certified.
Nature:
The Nature program is about having fun experiencing nature - -from frog-catching to understanding ecology, and also about becoming environmental stewards. The Nature Lodge is home to touch tanks and all manner of critters that campers bring in for temporary lodging and habitat study. Working in the camp vegetable garden helps kids learn to be environmental stewards who live lighter on the earth.
Archery:
Campers learn how to shoot crossbows, compound, and recurve bows. The archery range's beautiful setting and expert instructors makes archery a popular program at camp.
"Camp is a place where everyone feels welcome and can be themselves. I tell my friends that camp is a place where I count down the days till the new camp year starts again. I love camp Arowhon because it truly is my second home!"
Creative & Performing Arts
Arts & Crafts
Campers find the artist in themselves - at the potters wheel, in tie-dye, silk-screen, copper enamelling, Fimo and more. Campers love A&C for the newfound faith it gives them in their own creativity - and for the cool things you get to make - and bring home.
Drama
Camp plays are big musicals that happen once a week, with every section of campers getting their chance to shine. Campers act, sing, dance, do makeup, sets and lights, with expert guidance. Everyone who auditions gets a part – because camp drama is about everybody having a place to shine.
Guitar
Whether you're a beginner or an expert player, you can look forward to learning, improving, and performing your guitar talents at camp.
FAD (Fitness, Aerobics and Dance)
From boxing to Zumba, from aerobics to Pilates… yoga and meditation, ballet, and hip hop, the FAD studio offers fitness workouts and artistic expression. Our young dancers shake it up in the FAD dance program and learn to choreograph and perform dances for the whole camp at special events.
Tennis
As with all activities at Arowhon, winning isn't what counts: It's about building skills, and your own personal search for excellence.
Basketball, Baseball, Hockey & Soccer
We play basketball, volleyball on grass, soccer and softball on our playing field and ball hockey indoors.
In the team sports, as everywhere at Arowhon, our staff are trained to support children's skill-building and their excellence, not to foster competition. Kids compete against their own limits, not against each other.
FRISBEE GOLF
Sink a putt (or nine!) on the Frisbee Golf course in a magical maple forest.
"The thing I value most, by far, is the incredible bonds. In the Arowhon environment you can genuinely be yourself. The guys and girls you meet, because of the Arowhon environment and culture, are absolutely great people."
"Wilderness is not a luxury but a necessity of the human spirit."
Edward Abbey
Canoe Tripping
A wilderness canoe trip grows a child into a voyageur - a nature lover who feels proud of herself, a paddler and a portager who knows he can master challenge.
Algonquin Park's 3000 square miles of lake and forest is the backdrop for an adventure to nurture soul and spirit. Canoe tripping is where we meet our best self, in the sparkling rivers we paddle, the lakes we cross, the campfire's glow at dusk.
For our youngest campers, their first canoe trip is a gentle introduction to the path of the paddle - short canoeing days with minimal portaging and lots of time to have fun on the campsite swimming and learning to build a fire and cook on it, playing games with the counsellors in the woods.
Our experienced canoe trip leaders teach kids to make trip food like chocolate chip pancakes, chicken fajitas and s'mores. Juniors go on a three or four day trip, Inters go for four days and Seniors for five days... Longer trips are available for campers who want that.
For more information about Canoe Tripping at Arowhon, please visit our detailed information page by clicking here.
"Camp Arowhon is honestly the greatest place in the universe. If I had to describe my experience at Camp Arowhon in three words, they would be: exhilarating, because of how exciting everything at camp is and all the energy around you; comforting, because you know that camp will always be there for you; and suspenseful, because of how you absolutely just cannot wait to come back next summer and experience pure joy and happiness all over again. "